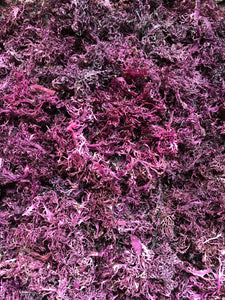 Oshun Organics LLC
Wild-crafted Purple Sea Moss
Regular price
$5.00
$0.00
Unit price
per
Purple sea moss is a kind of seaweed/alga packed with vitamins and 92 minerals of 102 that are essential to our body. Our offering of Sea Moss is wildfcrafted and sourced ethically from Jamaica.
The difference between purple moss and gold moss is similar to the variances of purple and white cabbage. There is some addition pigment and minerals that make up the color difference. However, both are equally beneficial.
We offer 1oz packages of this product. Adding multiple quantities to your cart will increase the amount by 1 Oz.
Being a potent source of potassium chloride, this sea moss dissolves the catarrhs or the phlegm and inflammation of the mucous membrane to prevent congestion. It also has antiviral agents and antimicrobial properties. It improves the immunity system of the body.
NATURAL YEAST; Add to any recipe; pancakes, pastries, shake, salads and deserts.

Vegan gel/ egg substitute. 
In a large container, add the desired amount of purple Irish moss that you would like to use and cover it with spring or distilled water. Make sure that the water covers the moss by 2-3 times because the purple moss will expand when rehydrated. Allow the purple sea moss to rehydrate for 12-24 hours. Pour off water and rinse again. Add to food processor with water until covering half a the sea moss. Blend until smooth. Store In refrigeration does up to 3 weeks. 

---