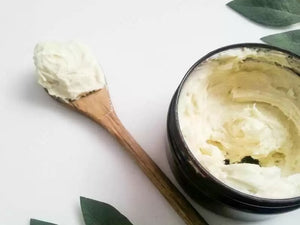 Oshun Organics LLC
Turmeric Massage Butter
Regular price
$5.00
$0.00
Unit price
per
Say goodbye to joint pain, aching backs and limps!  Our fast absorbing, Massage Butter will provide hours of relief so that you can feel a bit more like "your old self"  
Featuring clean ingredients, Full spectrum Hemp oil (not containing THc) and Turmeric essential oil

Solutions for:
- Inflamed or swollen joints, pain 
To Use: Apply nickel-size amount to skin and massage in. 

What it is formulated WITHOUT:
- Preservatives
-Synthetic additives
Available in 3 gram sample and 4 Oz ntw 
Featured Ingredients
250mg Full spectrum hemp oil
Babassu Oil- With a similar fatty acid profile to Coconut Oil, but unlike coconut oil, doesn't leave your skin feeling slick and greasy
Mango Seed Butter- Pressed from the Mango Seed. Will help keep skin elastic, improve dryness and itchiness.
Ingredients: Mangifera Indica (Mango) Seed Butter, Butyrospermum Parkii (Shea) Butter, Caprylic/Capric Triglyceride, Carthamus Tinctorius (safflower) oil, Raphanus Sativus (Radish) Seed Extract, Anthemis Orbignya Oleifera (Babassu) Seed Oil, Hemp Seed Oil, Maranta Arundinacea Root, Plai Oil, Curcuma longa (turmeric) root extract
Great stuff! Amazingly effective and non greasy
I began using this on an arthritic knee and few years ago when I discovered it at a Lynchburg farmers market.
Now I use it on any achy joint or neck pain.
I was so happy to be order online!
---